Tapping into a new DSPE member's expertise

The high-precision motion stage which is recently released by Prodrive Technologies.
Source: Mikroniek Issue 5 – 2021
Prodrive Technologies – high-end mechatronics and off-the-shelf products
Prodrive Technologies is a strongly customer-oriented company that develops and delivers a wide range of highly competitive products, systems and solutions, which enable new advancements for customers in their markets. Examples of these solutions include customised cameras that exceed existing resolution and speed specifications, optical metrology systems with improved reliability, and high-precision motion stages. As a result of its innovative approach, Prodrive Technologies is among the fastest-growing technology companies in Europe.
Prodrive Technologies excels at the smart design and cost-efficient production of high-end mechatronic systems. Its solutions often consist of several submodules, integrated into one complex system with challenging requirements concerning position accuracy, repeatability and cost. In fulfilling these requirements, integral system design is important. Also, Prodrive Technologies supports an extended lifetime over the product lifecycle to guarantee quality and availability. Its innovations result from research into and adoption of new process technologies, such as advanced packaging.
Customised and off-the-shelf products
Prodrive Technologies is also developing off-the-shelf product lines, such as drives, controllers, linear motors, actuators, position systems and cameras. These products leverage the company's many years of know-how and skill acquired while designing and manufacturing customised high-tech products, yielding high quality at competitive prices. Its off-the-shelf products, designed in close cooperation with several lead customers, help to shorten the design cycle for future optomechatronic systems and custom products.
Design of complex, multidisciplinary systems
Prodrive Technologies has a highly skilled research, design and engineering force of over 800 engineers in various fields, such as optics, physics, motion control, software, magnetics, precision mechanics, digital and analogue electronics. The force includes a team of system architects with different backgrounds, who can bring all these competences together to design complex, multidisciplinary systems.
Integral approach
The integral approach taken towards all these competences, combined with in-house manufacturing, enables optimised performance and quality for the best price, culminating in a unique market position. Prodrive Technologies' customers are key players in markets such as front- and back-end semiconductor equipment, life science and medical equipment, display equipment, building infrastructure, and industrial equipment. They apply its solutions to the heart of their systems to make a difference within their respective markets.

Prodrive Technologies' solutions include off-the-shelf product lines such as motion controllers and servo drives.
Pinpoint
Developed by Prodrive Technologies, the Pinpoint offers a high-accuracy position measurement solution for precise motion systems. It is ideal for (vacuum) stages where high reliability and long availability matter, and features subnanosecond latency synchronisation and absolute position measurement. This is combined with uncompromising digital integration options for seamless synchronisation between the measurement and motion control system. Prodrive Technologies' optical expertise provides innovative interferometer solutions focusing on reducing total cost of ownership for OEM equipment
partners.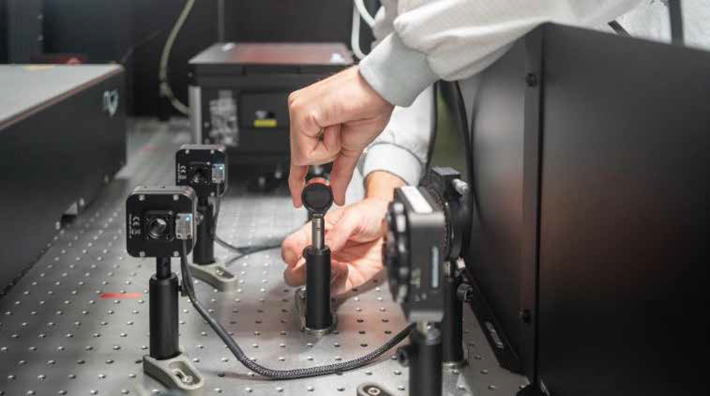 The Pinpoint offers a high-accuracy position measurement solution for precise motion systems.